Spider-Man is a franchise based around the eponymous superhero by Marvel comics. This franchise has been the frequent subject of licensed video games.
Spider-Man games date back to the 1980's, with Spider-Man being a 1982 title for the Atari 2600. Since then, he has officially appeared in dozens of games, in which he frequently stars as the main character.
Modern Spider-Man Games
Edit
Through the 1980's and 90's, Spider-Man games were developed and published by such diverse companies as LJN, Rare, Sega, and Acclaim. However, after a short hiatus of games in the late 90's, the rights to make Spider-Man games were acquired by Activision. Their 2000 inaugural title, simply named Spider-Man, was brought to the Game Boy Color, Nintendo 64, Saturn, and Personal Computers, with a Dreamcast port by Treyarch coming out the next year. Incidentally, Treyarch would eventually become the developer tasked with making Spider-Man games in the future.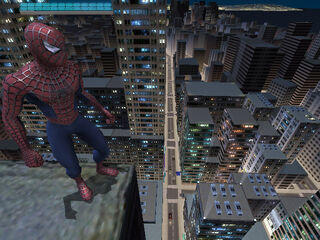 After a few more lesser-known games, the Spider-Man series became better known starting with the 2002 film adaptation. The first entry in the series developed mostly by Treyarch, it was considered a major hit, and a surprisingly good adaptation of the film. The 2004 sequel also by Treyarch, Spider-Man 2, was even better received, and is considered one of the best game adaptations of a movie ever made.
In addition to other movie tie-in games released in 2007, 2012, and 2014, Treyarch has also developed a number of independently created entries in the series, albeit in different continuities. Made for both consoles and handheld platforms, these included 2005's Ultimate Spider-Man, 2008's Web of Shadows, 2010's Shattered Dimensions, and 2011's Edge of Time. Though not quite an annual series, it is clear that Activision has relied heavily on the critical and sales success of these games in order to support both their console endeavors and development for other platforms, such as personal computers.
Reception
Edit
The Spider-Man franchise is hard to gauge as a whole due to its decades long history in video gaming. However, the "Activision Era" of the series has been quite successful, both critically and especially commercially. Spider-Man games since 2000 on consoles have received average scores ranging from approximately 7 out of 10 to 8.5 out of 10, an impressive record for a series of licensed games. Furthermore, these games have sold many millions of copies, with some titles being multi-million sellers.
Ad blocker interference detected!
Wikia is a free-to-use site that makes money from advertising. We have a modified experience for viewers using ad blockers

Wikia is not accessible if you've made further modifications. Remove the custom ad blocker rule(s) and the page will load as expected.