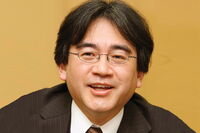 "Video games are meant to be just one thing. Fun. Fun for everyone."
Satoru Iwata is the current president and CEO of Nintendo.
Biography
Edit
Satoru Iwata was born on December 6, 1959, in the city of Sapporo. As early as high school, he began developing electronic games for calculators. After graduating from college with a degree in computer science, he helped found HAL Laboratory.
At HAL Laboratory, Iwata became the coordinator of software production in 1983. He worked on games such as Balloon Fight and entries in the Kirby series. By 1993, he would be promoted to president of the company. By this time, HAL Laboratory and Nintendo had a close relationship, meaning he would work with both companies.
When Hiroshi Yamauchi, the third president of Nintendo, retired in 2002, he was succeeded by Iwata, who remains Nintendo's president to this day. However, despite being a President, Satoru Iwata continues to occasionally lend his work for games. For example, he pushed the development of 2006's GameCube game Kirby Story.