Note: This is the game for the Revolution series of games. For the article on the console, click here.
The Revolution series is a series of games made by Nintendo. The purpose of these games was to introduce gaming to a broader audience, using easy to understand game-play and a clean presentation. The game can be played as a Mii avatar created on the Revolution
The original group of "Revolution" games was shown at E3 2006. These games included simple bowling, table tennis, golf, and baseball games, which combined familiar concepts with simple controls and execution. It was announced that several of these games would be bundled onto the console's hardware.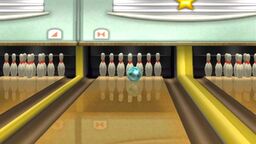 On September 14, 2006, the first round of pre-installed games was announced: Baseball, Bowling, Golf, Table Tennis, and Shooting Range. These games, which combined were well under 1 gigabyte in size, would be included on every console at launch. Furthermore, it was announced that any future "Revolution" series games would be downloadable in addition to possibly being bundled with new hardware.
The second round of Revolution games would be released on July 19 2007, the day the eShop proper was launched. From this point on, all the games in the series would see a release on the online store for a price of up to $10 in addition to being bundled in hardware.
In 2011, Revolution Collection was released. The game's disc contained most of the games in the series.
List of Revolution Games
Edit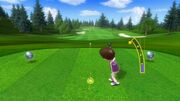 Released at Launch
Edit
Baseball
Bowling
Golf
Shooting Range
Table Tennis
Released July 19, 2007
Edit
Billiards
Find Mii
Fishing
Tanks
Veggie Guardin'
Released 2007 to 2010
Edit
Archery
Balloon Trip
Basketball
Battle Quest
Crash Course
Dodge ball
Fruit Cart
Hockey
Twister Race
Volleyball
Development
Edit
EAD Group 2, the Animal Crossing team at Nintendo, was responsible for developing most Revolution games, with the exception of the Revolution Fitness series. Development lasted for about five years, from late 2004 to the second half of 2009.
Most of the Revolution games can be played with a single controller, including many of the multiplayer games. This was an intentional design choice, as Producer Katsuya Eguchi recognized that many households would only have one controller. Nevertheless, many games also required a second controller for some modes, including games that required simultaneous play.
Reception
Edit
The Revolution series was considered a major success. From 2006 through 2008, the series helped convince large numbers of non-gamers to purchase the Revolution. Furthermore, the eShop releases of several Revolution games would be among the best selling on the service.
Critically, the Revolution games were decently received. Critics bashed the simplistic graphics and game play as well as a lack of content, but praised the bright and colorful nature of the games, as well as their ease of access. Critics also noted that as a series of pack-in and downloadable titles, the Revolution series should be entered with lower expectations.