Prope
Founded
2006
Headquarters
,

Japan

Industry
Developer
Employment
50
Prope is a Japanese game developer established by Yuji Naka.
Prope was founded in 2006 by Yuji Naka shortly after leaving Sega. It soon hired several other Sonic Team members.
Most of Prope's games have been simple titles for mobile devices or SegaNet. However, they have released one major game, Rodea the Sky Soldier, in 2011. This Flight Action game was a niche hit, and was one of Sega's key exclusives for the holiday season.
List of Games
Edit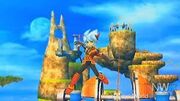 Note: The following List of Games is Incomplete.
Let's Tap (2009, Mobile)
Ivy the Kiwi (2010, Mobile)
Rodea the Sky Soldier (2011, Pluto)
Digimon Adventure (2013, Various)