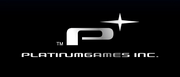 Platinum Games is a Japanese video game developer.
Platinum Games was founded in August 2006 by Shinji Mikami, Atsushi Inaba and Hideki Kamiya, three key members of Capcom's Clover Studio, and consists of many former members of that studio. The company then went quiet up into 2008, secretly developing multiple titles. Finally, in at E3 2008, Sega announced that they were entering a partnership with Platnium games, publishing their titles in return for system exclusivity.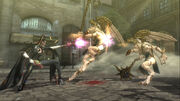 Platinum's first game, the black and white beat 'em up MadWorld, was released on February 10, 2009. It was followed by the SegaNet title Infinite Space on June 11, and most notably, Bayonetta on October 29. All three games were well received, but Bayonetta in particular was hailed as one of the great action games of all time, hindered only by long loading times and an occasionally choppy frame-rate.
In 2010, Platinum Games released the fast-paced third person shooter Vanquish, which was met with now familiarly positive reviews. However, the studio would not release another game until 2012's Anarchy Reigns. The successor of MadWorld, this game was the closest thing Platinum had to a failure yet, with low sales and only slightly positive reviews. However, at E3 2012, their upcoming lineup became clear, including games such as Bayonetta 2, an entry in the Shinobi series, and Metal Gear Rising for Konami. The latter two games would be released in 2013, though Bayonetta 2 was delayed to 2014.
Reception
Edit
Platinum Games' titles have not always been commercially successful, as evident with their debut title, MadWorld. However, every game in company history has been a critical hit, typically scoring at least eight out of ten from most reviewers.