Minecraft is a sandbox game developed by Markus "Notch" Persson and the developer Mojang. It is notable for its use of randomly created 3D environments and the players' ability to gather resources from the environment and use them to build a variety of structures.
Markus "Notch" Persson was inspired to create Minecraft by other similar survival and sandbox games, such as Dwarf Fortress. Although found in Minecraft such as construction, resource gathering, and randomized environments had all appeared in prior games, Minecraft was possibly the first to combine them in such a fashion.
The Alpha version of Minecraft became publicly available in mid-2009. Over the next two and a half years, Notch quit his day job and gradually added new features in update after update. Major steps included: the creation of "Survival" mode in October 2009, which essentially made Minecraft into a survival game; the introduction of randomly generated maps in February 2010; online multiplayer for multiple modes in June 2010; and weather in late 2010.
Meanwhile, Mojang began selling the beta version of Minecraft, promising free updates to those who purchased it at such an early date. This tradition of free updates continues to this day, as anyone who as purchased Minecraft for a platform continues to receive all updates for that incarnation of the game for free.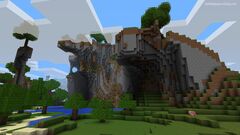 The "full version" of Minecraft was released in November 2011 for the PC. Since then, the game has still received regular updates, adding new modes and mechanics. A retail version of the game was released in stores in mid-2013.
Other Versions
Edit
Versions of Minecraft were released on Android and Apple mobile devices in 2011. These incarnations of the game, though less expensive than their PC sibling, were far more limited, being mostly a creative tool and lacking multiplayer.
At E3 2013, Sega announced that Minecraft would be coming to their new console, the Eclipse. This version of Minecraft, due for release later in 2013, is said to contain most of the features of the PC version, save for certain aspects such as mods that can't be replicated on consoles.
After the initial success of Minecraft on SegaNet, Sega announced that a retail version of Minecraft was in the works. It was released for a budget price on May 13, 2014, to good reviews and surprisingly solid initial sales.
Reception
Edit
Minecraft was met with much anticipation long before its formal release in late 2011. Many gaming websites and publications covered the game, giving it one of the most transparent development cycles in the history of the industry.
Upon release, Minecraft was met with much critical acclaim. The game received multiple awards for innovation in particular, and was PC Gamer's "Game of the Year." Minecraft has also been a huge sales success, selling millions of copies of the game even before the "full version" was released, and by mid-2013 was one of the best-selling PC games of all time.