Microsoft
Founded
April 4, 1975
Headquarters

Redmond

,

United States

Industry
Publisher, Developer
Employment
93,000
Microsoft is an American corporation devoted to software development. It is the world's leading software developer, and is a major developer and publisher of games on personal computers.
Microsoft Game Studios
Edit
Microsoft Game Studios, the component of Microsoft devoted to the development and publishing of games, released their first game, Microsoft Entertainment Pack, in 1989. Throughout the 90's, the company continued to publish games both internally developed and from independent developers. Major games in the 90's included Microsoft Space Simulator, versions of Microsoft Flight Simulator, and Age of Empires.
As the turn of the millennium came and went, Microsoft showed only passing interest in the console market, discouraged by the failures of other companies such as Apple. Convinced that only devoted game companies could successfully break into the console market, Microsoft decided to focus its efforts on PC games.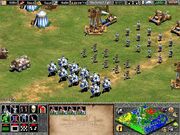 The early to mid 2000's were a time of growth for Microsoft Game Studios. Microsoft acquired Ensemble Studios, the creators of the Age of Empires series, in 2001, Blue Fang Games, the creators of Zoo Tycoon, in 2004, and Lionhead Studios, the creators of Black and White, in 2006. and, most notably, Bungie, the creators of Halo, in 2000.
In the past few years, Microsoft's games division has declined somewhat. This is due to drops in the retail sales of PC games, with Valve's Steam software coming to dominate the market. At first, Microsoft resisted Steam's influence, selling games on their "Games for Windows" digital store. However, recent games have also been sold via Steam.
List of Published Games
Edit
Age of Empires (1997)
Age of Empires 2 (1999)
Halo (2001)
Zoo Tycoon (2001)
Age of Mythology (2002)
Fable (2004)
Halo 2 (2004)
Zoo Tycoon 2 (2004)
Age of Empires 3 (2005)
Gears of War (2006)
Halo 3 (2007)
Mass Effect (2007)
Fable 2 (2008)
Gears of War 2 (2008)
Halo Wars (2009)
Halo ODST (2009)
Fable 3 (2010)
Halo Reach (2010)
Gears of War 3 (2011)