This is a List of Games published by Sega, arranged by platform and by year. Note that the earliest year of release is the one noted, rather than the year of release in a specific region.
This list may be incomplete.
Dreamcast
Edit
Crazy Taxi
Jet Set Radio
NBA 2K1
NHL 2K
Phantasy Star Online
Samba de Amigo
Shenmue
Skies of Arcadia
Sonic Adventure
Sonic Shuffle
Sakura Wars I&II
MLB 2K2
NBA 2K2
NFL 2K2
NHL 2K2
Super Monkey Ball
Virtua Tennis 2
Sakura Wars 3: Is Paris Burning?
MLB 2K3
NBA 2K3
NFL 2K3
NHL 2K3
Panzer Dragoon Orta
Shenmue 2
Shinobi
Shining Sun
Sonic Adventure 2
Sonic Mega Collection
Super Monkey Ball 2
Virtua Fighter 4
Billy Hatcher and the Giant Egg
MLB 2K4
NBA 2K4
NFL 2K4
NHL 2K4
Sonic Golf: Green Hills Zone
The House of the Dead 3
Sakura Wars 4: Fall in Love, Maidens
MLB 2K5
NBA 2K5
NFL 2K5
NHL 2K5
Nightshade
Sega Superstars Smackdown
Shenmue 3
Shinging Tears
Sonic Heroes
Sonic Power Tennis
MLB 2K6
NBA 2K6
NHL 2K6
Sakura Wars: So Long My Love
Sonic Gems Collection
Yakuza
MLB 2K7
NBA 2K7
NHL 2K7
Sega Genesis Collection
Sonic Riders
Yakuza 2
MLB 2K8
NBA 2K8
NHL 2K8
Shining Wind
Blue Dragon
MLB 2K7
NBA 2K7
NHL 2K7
Super Monkey Ball: Banana Blitz
MLB 2K8
NBA 2K8
Nights
NHL 2K8
Sonic at the Olympic Games
Sonic Adventure 3
Virtua Fighter 5
Virtua Tennis 3
MLB 2K9
NBA 2K9
NHL 2K9
Sega Superstars Smackdown: The Skirmish
Sega Superstars Tennis
Valkyria Chronicles
Yakuza: Samurai Legend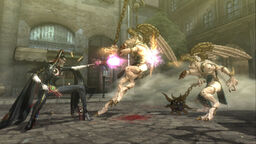 Bayonetta
Madworld
MLB 2K10
NBA 2K10
NHL 2K10
Sonic at the Winter Olympic Games
Sonic Chronicles: The Dark Brotherhood
Sonic Unleashed
The Conduit
Yakuza 3
MLB 2K11
NBA 2K11
NHL 2K11
Shining Sun: Dark Dawn
Sonic & SEGA All-Stars Racing
Sonic Colors
Sonic the Hedgehog 4
Super Monkey Ball: Let's Roll!
Vanquish
Yakuza 4
MLB 2K12
NBA 2K12
Rodea the Sky Soldier
Sonic at the 2012 Olympic Games
Sonic Generations
Super Monkey Ball: Monkey Madness
Virtua Tennis 4
Yakuza: Dead Souls
Anarchy Reigns
MLB 2K13
NBA 2K13
Sonic Tennis Open
MLB 2K13
NBA 2K13
Sega Superstars Smackdown: Strife
Sonic & All-Stars Racing Transformed
Yakuza 5
MLB 2K14
NBA 2K14
Phantasy Star Online 2
Shinobi Eclipse
Sonic: Lost World
Sonic at the Sochi Olympic Games
Virtua Tennis 5
Bayonetta 2
MLB 2K15
NBA 2K15
Puyo Puyo Tetris
Sonic Boom
Sonic Chronicles 2
Sonic Golf: World Tour
Yakuza: Restoration
Sonic at the Rio 2016 Olympic Games
Yakuza 0
Sonic Tennis: Mega Smash
Panzer Dragoon Omega
Yakuza 6
Shinobi Unveiled
Sonic Forces
Upcoming
Edit
Valkyria Chronicles 4
Sega Superstars Smackdown: Ultima
Bayonetta 3
Sega
Consoles
Online
Studios
People
Games