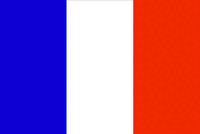 France is a country in Western Europe. Along with the United Kingdom and Germany, it is one of the largest video game markets in Europe, as well as one of the largest in the world.
The modern French video game market is largely dominated by Nintendo's systems, though Sega's consoles still have a place on the market. Games such as The Legend of Zelda: Skyward Sword were better received here than in other places in the world, and some Nintendo-made games such as Mario Kart X continue to be among the best selling games in the country years after release. Despite this, the most popular series in France at the moment is Assassin's Creed, published by the French publisher Ubisoft.
The popularity of not only Assassin's Creed but also the Batman Arkham and Zelda games suggest that the Action-Adventure is France's favorite genre.
The French video game industry hires thousands of people, thanks in large part to the presence of local publishers and developers such as Ubisoft. Ubisoft in particular dominates the French gaming industry, being one of the top publishers and developers of games in the world.
Regulation
Edit
France uses the Pan European Game Information (PEGI) system of rating games for audiences. Said ratings system is mandatory in France,