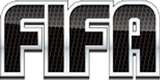 FIFA is a series of soccer games published by Electronic Arts. Starting in 1993 as the first game series officially licensed by the International Federation of Association Football, it is today the primary competitor of Konami's Pro Evolution Soccer games.
Note: Sales from many entries in the series are unavailable. However, in recent times, sales have generally risen year after year, especially as consoles have gotten more popular in Europe.
The following are approximate sales across all versions of the respective games.
FIFA Soccer 2003 - 1.4 million
FIFA Soccer 2004 - 1.5 million
FIFA Soccer 2005 - 1.6 million
FIFA 06 - 1.8 million
FIFA 07 - 2.1 million
FIFA 08 - 2.8 million
FIFA 09 - 2.5 million
FIFA 10 - 3.2 million
FIFA 11 - 3.1 million
FIFA 12 - 3.5 million
FIFA 13 - 3.9 million
Reception
Edit
The FIFA series has been well received, both critically and commercially. It is one of Electronic Art's most successful franchises, especially in recent years. The entries since the start of the sixth generation of consoles alone have sold about 30 million copies.