Enix

Founded
1975
Headquarters

Tokyo

,

Japan

Industry
Publisher, Developer
Enix is a Japanese publisher of games, most notably the Dragon Quest series. It also publishes the various games developed by Level-5, including the Professor Layton series.
Enix was founded by Yasuhiro Fukushima on September 22, 1975 as Eidansha Boshu Service Center, and renamed Enix in 1982. At this time, the former tabloid publisher switched to video game publishing. Enix notably didn't develop its own games, instead outsourcing them to other companies. The company's first major hit was Dragon Quest, developed by Chunsoft.
After Ohga Shrugs
Edit
Although Enix released games for most platforms, their flagship Dragon Quest series, which soon sold millions of copies per installment in Japan, was made exclusively for Nintendo systems.
Enix after losing Tale Phantasia early rights, worked with newly Created Tri-Ace into their own version, Star Ocean for Snes and other Nintendo Consoles
Enix Commisioned Wild West Themed RPG from Media.Vision Wild Arms to show N64 3D capabilities even if the game was japan only
In 2001, after the release of Dragon Quest VII, Enix discussed acquiring rival company Square. However, Square's recent success made the company reluctant to change their circumstances.
Meanwhile, development of Dragon Quest VIII was handed over to developer Level-5, who made Dark Cloud for the N64 with Enix as a publisher. After the game was completed in 2005, Enix made a deal with Level-5 to publish all of their games in return for their developing the Dragon Quest series. This resulted in a long, positive relationship between the two companies, resulting in Enix ultimately acquiring Level-5.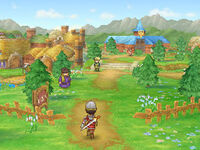 Enix's most successful game ever was Dragon Quest 9 for the Game Boy Nitro. It would sell over five million copies in Japan alone, making it the most successful non-Nintendo game of the generation. Dragon Quest 10 for the Revolution had a more modest reception, but still sold over three million copies in 2012 alone.
Organization
Edit
Enix as developer followed an interesting approach, rather having in house studios they used to used a myriad of third party developers under contractual basis , even their prized franchise, Dragon Quest was developet with that model, with only Armour Project(Yuji Horii personal studio) as the constat, the same was during much Enix Story.
Later enix decided to Internalize a few studios, one to collaborate with Nintendo sports game and Level-5, for their contast sucess in game series and excellent result with Dragon Quest Franchise.
Owned Studios
Armour Project - Dragon Quest, Dragon Quest Monsters,Dragon Quest Spin offs
Level-5 - White Knight Chronicles, Inazuma, Professor Layton, Youkai Watch, Various
Fortune Sports - Fortune Street, Nintendo Sports game(witn Nintendo)
Affiliated Studios
tri-Ace - Star Ocean, Valkyria Profile
Media.Vision - Wild Arms, Various.
Artepiazza - Dragon Quest