Eclipse is the name of Sega's eighth generation console, and was released November 11, 2012. It is Sega's first console capable of supporting 1080p graphics.
Rumors of the Eclipse go as far back as 2010, when the Sega Power magazine reported that Sega was developing their next generation of hardware, along with speculations of how powerful it may be. By E3 2011, the existence of the yet-to-be-named Eclipse had been confirmed by many sources. Sega first showed their hardware on June 6, along with a few tech demos for the machine. However, no official gameplay was shown. It wasn't until E3 2012 that specific games were shown running on the system, including Aliens: Colonial Marines and Sonic & All-Stars Racing Transformed.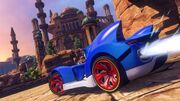 The Eclipse was launched in America on November 11, in Europe on November 23, and in Japan on December 15. Launch titles included Sonic & All-Stars Racing Transformed, Sega Superstars Smackdown: Strife, and Assassin's Creed III. The Japanese launch also included Yakuza 5. Consoles were sold from $300 to $400.
The first few months of 2013 were a mixed bag for the Eclipse, though by no means terrible. The system received plenty of games, including DmC, Rayman Legends, Metal Gear Rising, and Tomb Raider. However, these games were multiplatform titles, appearing not only also on the Stream but sometimes even on last-generation systems. The only exclusive titles of note were the critically panned Aliens: Colonial Marines and Virtua Tennis 5, which failed to leave much of an impact. Nevertheless, there was no major software shortage after launch.
Hardware
Edit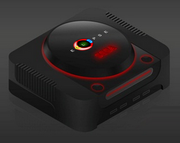 Little is known about the Eclipse's hardware at this point. However, it has been confirmed that a quarter of the system's 4 GB of RAM is devoted towards non-gaming purposes, such as connecting online mid-game.
Eclipse discs use Blue-Ray technology, and can thus hold up to 25 GB of data.
List of Best Selling Games
Edit
Note: This list is as of March 31, 2014.
Superstars Smackdown: Strife - 2.3 million
Sonic & Sega All-Stars Racing Transformed - 2.0 million
Call of Duty: Ghosts - 1.5 million
Assassin's Creed: Black Flag - 1.4 million
The Last of Us - 1.3 million
Metal Gear Rising - 1.2 million
Tomb Raider - 1.1 million
FIFA 14 - 1.0 million
Price History
Edit
November 11, 2012 - $300 for the 40 GB model, $350 for the 160 GB model, $400 for the 500 GB model.
Reception
Edit
Since its launch, the Eclipse has been generally praised by the gaming and technology press. Though criticized for its aesthetic design, the console was praised for its reasonable price, prowess, and early library that easily surpassed that of the Pluto. The system has also been praised for not being region-locked, unlike Nintendo's competing Stream.
Sega
Consoles
Online
Studios
People
Games