Activision
Founded
1979
Headquarters

Santa Monica, California

,

United States

Industry
Publisher
Employment
3,000
Activision is an American video game publisher. Founded in 1979, it was the first third party video game developer for game consoles. Over thirty years later, it remains a notable part of the gaming industry.
After its founding in 1979 by a group of ex-Atari employees, Activision created games for the Atari, including classics like 1982's Pitfall. As Atari declined, Activision grew and developed and published games for other consoles.
After Ohga Shrugs
Edit
Throughout the 90's, Activision acquired more studios, transitioning from a small, independent developer to a major publisher. Major hits mostly included licensed games, particularly the Tony Hawk games of the late 5th generation and early 6th generation.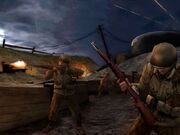 Activision rose to prominence in the PC realm with the breakout hit of the Call of Duty franchise. Although the series started in 2003, it grew to prominence years later, eventually reaching a high point from 2009 to 2011. However, most of these games were exclusive to PC's, due to the hardware limitations of consoles. Therefore, while Activision has become a regular name in PC gaming, it is still fairly obscure in much of console gaming.
Activision's first major claim to fame in the modern console market has been their Guitar Hero series. Since the series inception in 2007, the Guitar Hero series has been the dominant Rhythm series in the industry, using specialized controllers to create an unique form of gameplay. However, the series declined after its third iteration in 2009, and hasn't seen a new entry since 2011's Guitar Hero 5.
Recently, in early 2009, Activision bought out the ailing company Eidos. The Eidos name was retired, though studios with the name "Eidos" in them were allowed to keep their current names. Since then, as many of former Eidos's projects have become moderate hits in the console market, Activision has been growing in scope. Recent hits have included Deus Ex: Human Revolution, Hitman: Absolution, and the upcoming Tomb Raider reboot.