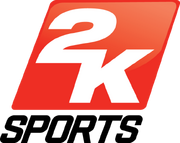 2K Sports is a series of Sports games developed by Sega's Visual Concepts studio. Like other sports franchises such as Konami's Pro Evolution Soccer and Electronic Arts' various sports games like Madden, 2K Sports games are released on an annual basis, with minimal changes per iteration.
Current Series
Edit
Baseball
Edit
Baseball has been a 2K Sports mainstay since 2001's World Series Baseball 2K2. Since then, games in the series have been released every year, typically during March. The ESPN license was acquired in 2004, and led to a de facto monopoly of baseball games on Sega systems for years to come.
Basketball
Edit
Basketball is considered to be the strong point of the 2K series. Since the original's release in 2000 on the Dreamcast, a new NBA 2K game has been released every year for Sega's consoles, usually during the first week of October. This series dominates its genre, beating out EA's NBA Live series by a wide margin.
Former Series
Edit
Football
Edit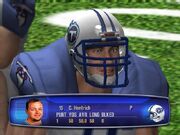 During the Dreamcast era, the 2K series included several popular NFL games released on an annual basis. However, in 2005, Electronic Arts was granted exclusive rights to the NFL license, effectively monopolizing the genre. Since then, 2K has made no new football games.
The NHL 2K series was possibly 2K Sports' weakest series. It has been discontinued since 2011, when sales for the game were too poor for several years in a row to justify continuing the franchise. Even at the series's high point though, it was overshadowed by EA's equivalent series.
Reception
Edit
The 2K series has generally sold decently, selling enough copies every year to ensure a minimally changed sequel the next. In recent years, the NBA games in particular have been fairly popular, especially since they have a de facto monopoly on the Basketball genre.
Critically, the various games in the series have been extremely mixed. Some titles, such as 2K's earlier NFL and MLB games and their current NBA games, are considered some of the better sports games ever made.
2K's recent Baseball games in particular have been critically panned, with the latter Dreamcast iterations in particular being considered some of the worst games of their type ever made. Additionally, 2K's NHL games, though not terribly received, are generally considered worse than EA's respective series.